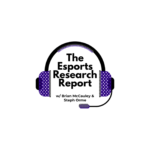 Scottish Esports is gathering pace and leading the charge is Mark McCready who represents the kilt wearing crowd in the British Esports Association. Steph & Brian talk to him about the emerging college scene, expensive esports stadiums in Dundee and  the fact that Fifa as an esport is Scotland's best chance of winning a football world cup in the future! (these views are Brian's and Mark does not say this) You can subscribe and listen on Spotify or Apple or Google !
Mark McCready represents Scotland as part of British Esports (https://britishesports.org/)
You can find him on Twitter https://twitter.com/MarkMcCreadyUK
or connect with him on Linkedin https://www.linkedin.com/in/markmccreadyuk/
if you have any questions about the esports scene in Scotland or deep friend Mars Bars.
Esports Research Network
Presenters: Dr. Brian McCauley
https://ju.se/center/mmtc/people/researchers/2019-03-07-brian-mccauley.html
Dr. Stephanie Orme https://twitter.com/stephanieorme
https://www.emmanuel.edu/academics/our-faculty/stephanie-orme.html
Credit Music by John Bartmann https://johnbartmann.com