Research into esports is a burgeoning field, with scholars from a range of disciplines such as marketing, business, cultural studies and sociology coming together to explore the salient opportunities and challenges faced by those play video games professionally and as a leisure pursuit. Non-experts have long voiced concerns over the influence video games have on the psychology and wellbeing of young people, with the news media often drawing tenuous pathological links between video games and violence and addiction. I have been researching young people and their intimate uses of social media for several years now, having been especially interested in how young people voluntarily engage in risky behaviour to find a sense of fulfilment or belonging online. I have recently begun to merge this research expertise with my personal interest in video games, esports, and live-streaming.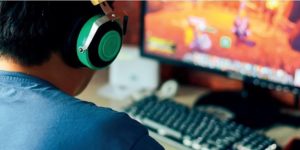 The School of Media, Communication and Sociology at the University of Leicester, United funded by the eNurture research network and in partnership with The Diana Award, Staffordshire University Digital Institute London, ESL UK and Esports Insider had planned to host a two-day symposium entitled GAMESYM at the Digital Institute in London on the 14th and 15th of May 2020. This two-day event intended to bring together leading academic researchers, young esports athletes and gamers, specialised practitioners, and industry leaders together. Its aim was showcasing research and promoting discussion which explores how digital environments – specifically live-streaming platforms and esports – are changing the nature of the risks that children and young people face in their everyday digital lives, and the simultaneous opportunities such engagements bring.
Discussions would have focused around topics such as:
How gaming, live-streaming and esports supports or hinders children and young people in the fabric of their daily life?
What young people's experiences of intimacy, belonging, exclusion, or hate are in contemporary online gaming spaces?
What mental health risks, challenges, or opportunities are involved with gaming, live-streaming and esports – and how young people can be or are supported in this area?
How to frame/reframe public discourses concerning young people, gaming, live-streaming and esports?
Unfortunately, the outbreak of the Covid-19 pandemic meant that the symposium had to be postponed until further notice as countries around the world went into lockdown and international travel became unsafe. As of May 2020, countries are beginning to ease restrictions around international travel, though Covid-19 remains a global threat to public health and safety. While the symposium is on hiatus, it is our hope that we can reschedule GAMESYM 2020 as soon as possible. The symposium organisers are considering delivering the symposium through an entirely digital means via Zoom or similar platforms. Watch this space for further updates in the near future.