ERNC22 'Sustainable Esports in the Digital Society' is the first in person conference for the Esports Research Network. While last year's event 'Health & Wellness in Esports' was forced to go online due to the pandemic, this year it is being held in Jönköping in Sweden, the 'City of DreamHack'. With a longer history than most with esports (click here for the research), Jönköping offers the perfect venue for this first live event with most attendees attending DreamHack after the conference in line with ERN's goals of academia working with practitioners. And the industry is happy to engage back with our main sponsor, ESL Faceit Group, providing speakers, support and engagement with the DreamHack festival.
The Media Management & Transformation Centre at Jönköping International Business School will host 130 attendees between the 21st and 23rd of November. The plenary sessions will be live streamed on Twitch, Youtube and Linkedin each day from 13:30 – 17:00 and feature a range of speakers from both academia and industry. Kicking off on Monday at 2pm will be a welcome by Conference Chair Dr. Brian McCauley followed by DreamHack MD Andreas Jernberg and ESL's Lillie Klelfelt providing some context on DreamHack and EFG's commitment to sustainability. Following many attendees first Fika break (Swedish for Coffee, Cake & Chill) the International Federation of Esports Coaches will present their 'Applied Guide to Sustainable Team Performance'. Wrapping up Monday one of our keynotes, Graham Ashton of Riot Games, will provide some insights on how they are developing a sustainable ecosystem for League of Legends in Europe. Those attending the welcome dinner can enjoy Dr. Veli-Matti Karhulahti's keynote talk on practices that can inform sustainable esports research.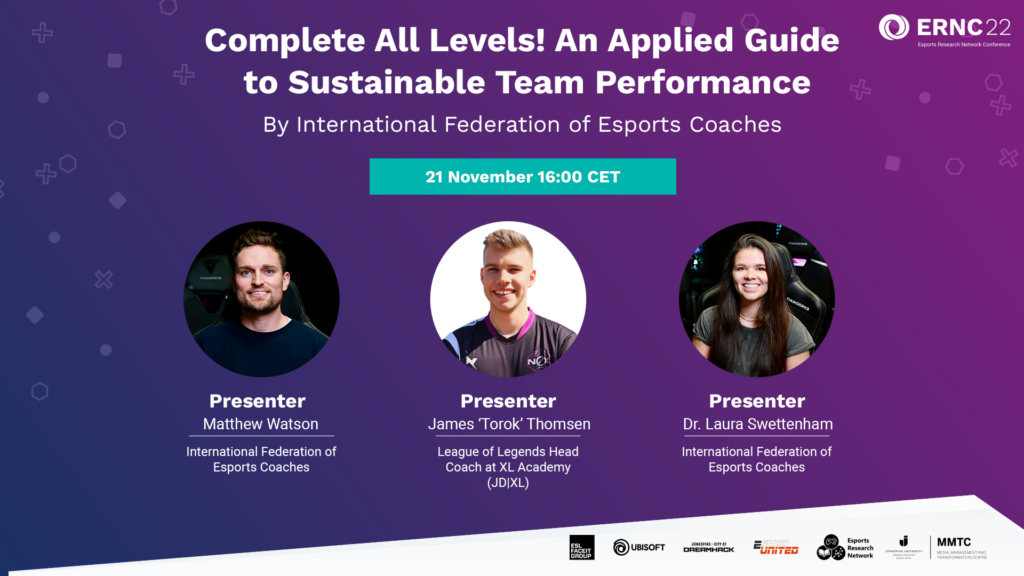 Tuesday will kick off offline with researchers and industry, presenting and discussing their work in a variety of research tracks. Tracks will focus on topics such as sustainable grassroots, business evolution, careers, and esports performance with 30 abstracts being presented. After lunch and live online there will be more interesting panels and discussions around sustainable esports. These include panels on HR & Careers and Business Sustainability but also a presentation by the editors on an upcoming 'Handbook of Esports Research'. Keynote Ashley Washington from Riot Games will end the day by presenting her insights as product manager for Valorant's Game Changers Championship.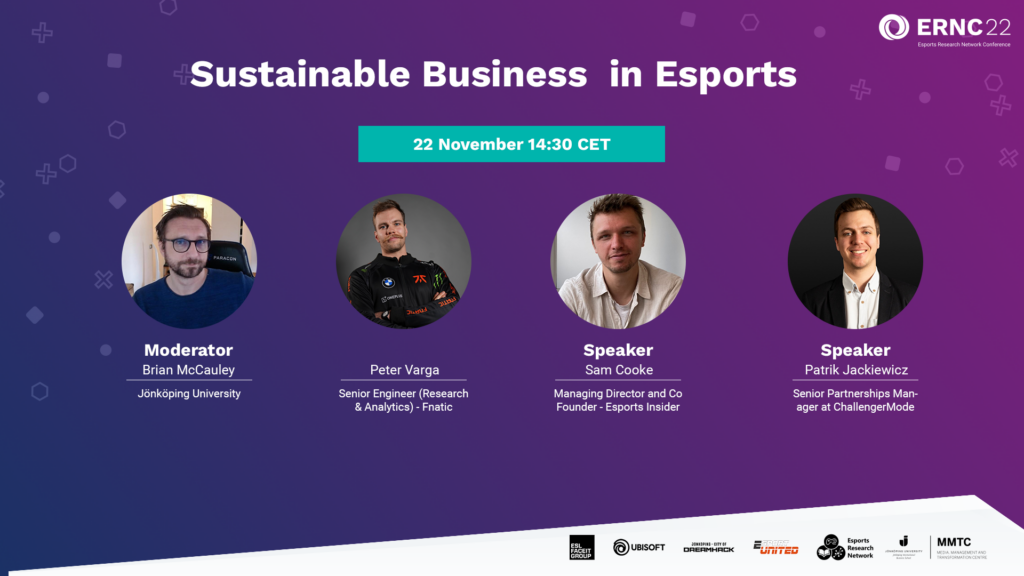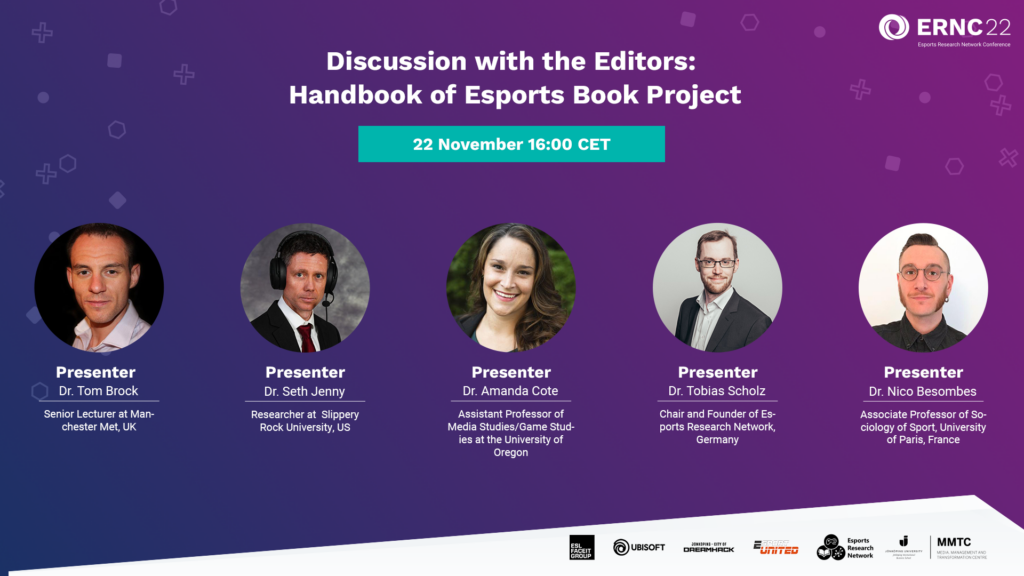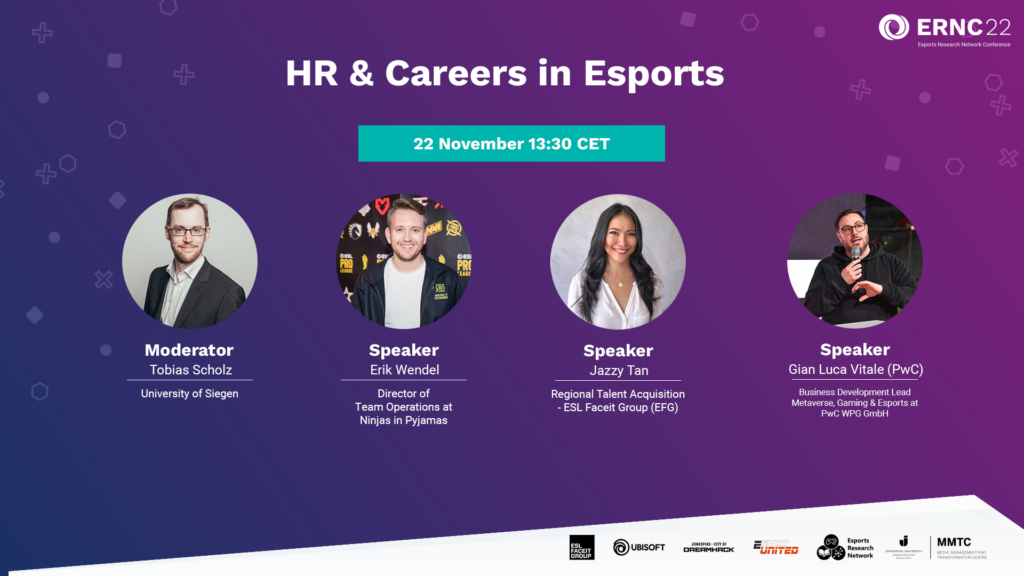 Wednesday's offline and personal morning sessions feature another 30 research abstracts being discussed across topics such as culture, diversity, health, gender and education. All important topics when considering a sustainable future for esports and these sessions provide a platform for future work in these areas. There are three panels live on Twitch to wrap up the conference. First up is the 'Importance of Diversity & Inclusion for Esports' breaking down not only why it's important for a sustainable future but also how esports can act as a platform for good cyber citizenship. Next the 'Current Ethical Challenges in Esports' will be discussed across a host of important considerations that include; gambling, governance, sports washing and more. The last panel is on #GGFORALL by ESL that covers a range of new initiatives designed to tackle discrimination, promote mental wellbeing and progress environmental sustainability in esports.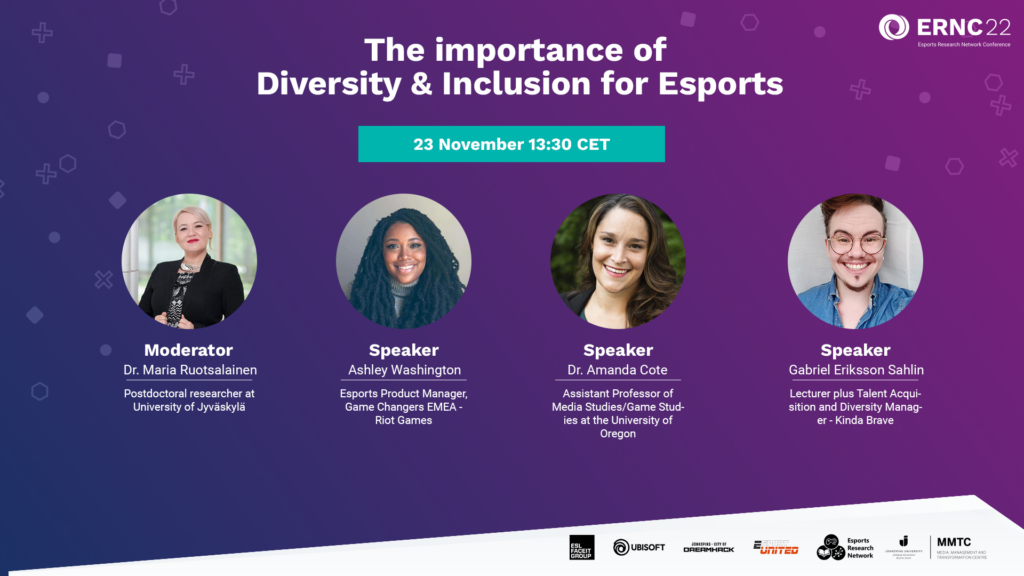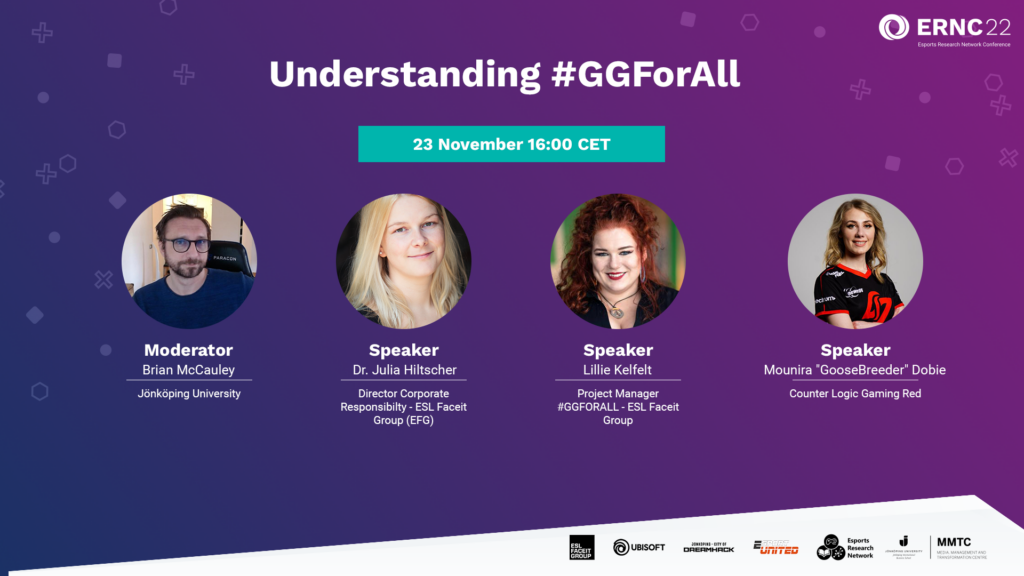 Those at the event can take the opportunity on Wednesday evening to attend a meeting with ERN's Diversity and Inclusion committee while Thursday is the ERN annual meeting that can be attended live or online. Probably what most attendees are excited about is the opportunity to engage with attendees at DreamHack Winter 22 which is making a full comeback after the pandemic. Jönköping's local government and tourism board 'Destination Jönköping' are also key sponsors of the conference demonstrating the region's commitment to a sustainable future that includes esports. The final sponsors are Ubisoft and Esport United, Swedens' largest grassroots esports organization. ERN would like to thank these sponsors for their support, financial and otherwise, and helping us keep costs low for attendees to ensure the largest possible turnout.
Join the conference on twitch! https://www.twitch.tv/esportsresearchnetwork